Wool Nursing Pads in Natural
The HumBird Merino Interlock Collection: Made for EveryBody, EveryDay. 

 This Listing is for 1 pair so if you purchase one you are receiving 2 nursing pads or 1 pair. 
Double layer in colour nursing pads will always have natural wool that sits next to the skin: one layer in colour and one layer natural.
What are wool nursing pads?
Wool nursing pads are great for nursing parents and are perfect for the individual that wants superior, all-natural protection. These are especially wonderful for individuals with sensitive skin that cannot tolerate synthetic disposable nursing pads or the extreme dampness of washable cotton and bamboo nursing pads. 
Directions for use: you will want your wool nursing pad firm up against your body so that any leaking milk with be pushed through the pad away from the skin keeping you dry. It is recommended to  use our nursing pads while wearing a snug fitting nursing bra or similar top to keep the nursing pads in place and directly pressed against the lactating area.
Wool is an extraordinary fiber as it is natural, fire resistant, easy to care for, anti-microbial, and is temperature regulating. It not only keeps you warm in the winter, but it keeps you cool in the summer. 
As a personal item, nursing pads cannot be returned for hygiene purposes, even in new, unused condition. We cannot verify the condition of a personal item once it leaves HumBird Headquarter and therefore cannot resell the item. Customers do however resell these interlock wool nursing pads in our FaceBook group.
How many do I need?
WOOL NURSING PADS DON'T HAVE TO BE WASHED WITH EACH USE.
We recommend a minimum of 2 pairs, one to wear, and one to dry while you wear the other. Typically, we recommend washing every 2 weeks. Earlier in the nursing journey when there can be an abundance of milk, they may need more frequent washing.
To quote one of our customers who use our nursing pads, "I wash them when they start to feel crunchy."
The HumBird Merino Collection:
A clothing line that balances sustainable fabrics with comfort and aesthetics.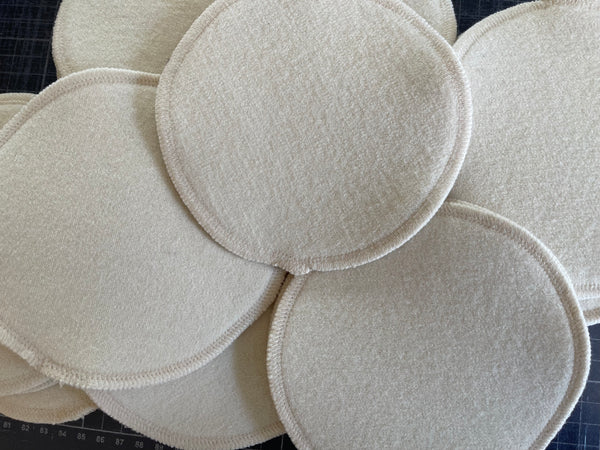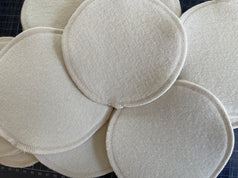 Wool Nursing Pads in Natural
The HumBird Merino Interlock Collection: Made for EveryBody, EveryDay.   This Listing...
Pad diameters
Please measure the diameter of the bra you intend to wear them in to check the size, these are only recommendations.
4 1/2" in diameter is ideal for less than A-B cups, or for women who wear lower cut bras.
5 1/2" in diameter is ideal for B-DD cups.
6 1/2" in diameter is ideal for DD+ cups.
Try to buy pads that just fit your bra. It may seem like large pads are less discreet, but when they fill the entire cup of your bra, they do not create seams that can be seen through your shirt. Smaller pads that don't fill the cup may create visible seams through your bra.
Pad weights
Light: 1 layer of soft, felted wool interlock. Because it is 1 layer, the dyed layer will be next to skin. These are also offered without serging if you are sensitive to it. Please note that the unserged pads will "fuzz" at the ends. I recommend serging unless you have a sensitivity.
Medium: 2 layers of soft, felted wool interlock. 1 layer is dyed, and the next the skin layer is natural.
Overnight: 3 layers of soft, felted wool interlock. 1 layer is dyed, and the next to skin layer is natural. The sandwiched inner layer is made 1" smaller so that they conform to the breast better.
I recommend Light pads for ladies who have only light leaks, likely during the later parts in their nursing experience. Medium pads work for most women during the day, and Overnight pads are great for, well, overnight, and during the early weeks of nursing when your milk supply is not yet well regulated resulting in an oversupply.
Kettle dyed nursing pads that become wet with milk, combined with the pressure from being in a bra may transfer colour onto the bra and or your skin. In most cases this will wash out in a normal wash. Please do not use in combination with silk bras.
Handmade to order
From start to finish your order is handmade with the utmost care.
Small Business Model
HumBird is committed to a sustainable business model that focuses on responsibility to the future.
Fabrics Locally Created
EU Fabrics, Earth first, Animal first, Responsibly made
Community Driven
Interacting with our customers is the highlight of our day! Join our Facebook group.