Merino Jersey: Adult Sporty Pocket Leggings (short/capri/full length option)
The HumBird Merino Interlock Collection: Made for EveryBody, EveryDay. A clothing line that balances sustainable fabrics with comfort and aesthetics.
HumBird sporty pocket leggings have a seam free front and a generously sized gusset for the ultimate in comfort. The pockets are generous and fit my iphone 12 max plus without problems. The sporty leggings are available with a low, mid, and high rise to allow a fit for your body. The short length can not be shortened due to the pocket. Please note due to the amazing stretch of this fabric the rise and inseam will often be longer on the body.
-Standard Waistband- The standard waistband is a one piece double layer band. Due to the stretchy nature of EveryDay wool we have found that the standard waistband gives a better fit and now all leggings are made with it. You can add height to the waistband to get a higher rise. For example, adding 1" adds 1" to the front rise and 1" to the back rise. Rise can be adjusted only through the waistband height so the lower rise legging has less height in the waistband. In the picture the model is wearing a high rise.
 If you are between sizes we recommend rounding DOWN.
 Rises are approximate. Back rise is approximately 2.5" higher than the front rise. Please see the size and fit guide for approximate front rises. You can add onto the rise by adding onto the waistband height.
For the most customizable fit leggings please see the adult base layer legging.
Now offering reinforced seams. You can choose to get reinforced seams on the gusset (so the seams between the legs) and the back panel piece. 
Turn around time for custom clothing is 2-4 weeks. This means it will ship, at the latest, 4 weeks from purchase date.
 👉 Always review size charts to ensure fit! Remember, every brand fits differently. Don't assume a certain type of fit based on a style name you recognize from a different brand.
👉 NOTE: Please be aware that these are not tailor made pants made to fit your exact body. This is a pattern and not all patterns fit all bodies. Please check measurements.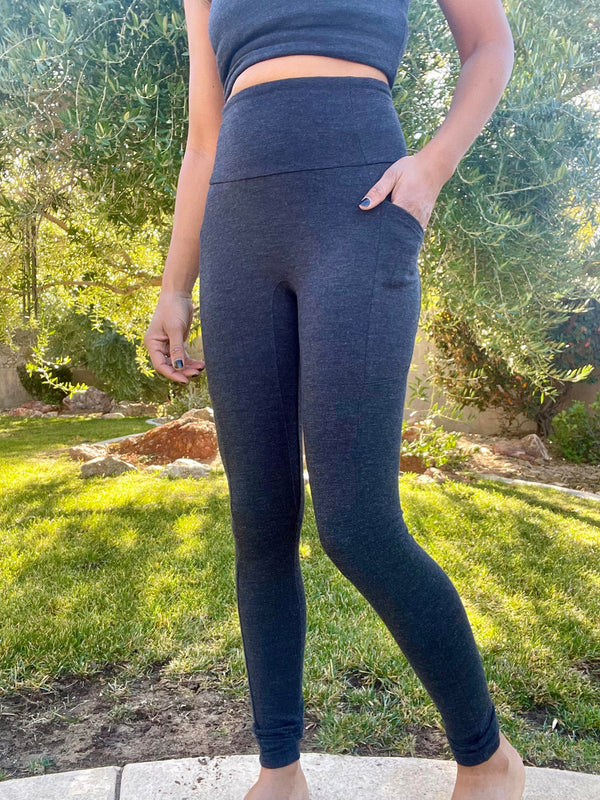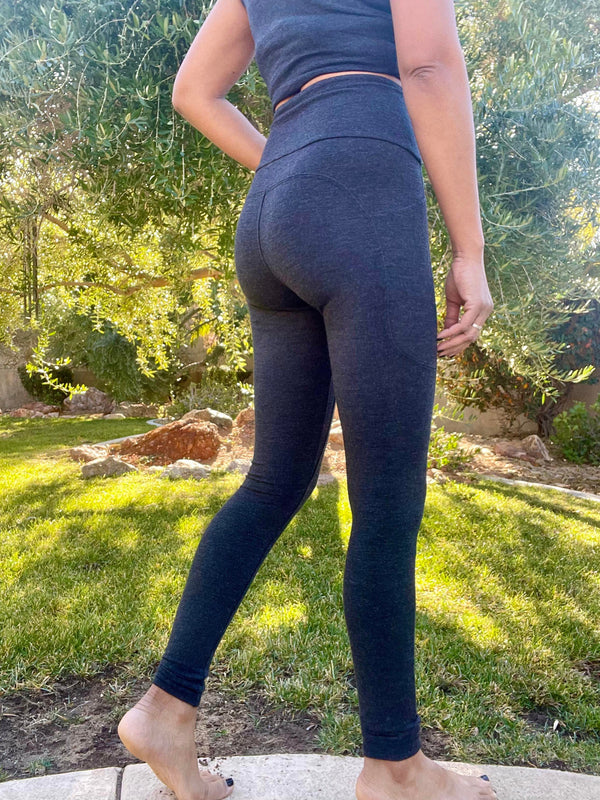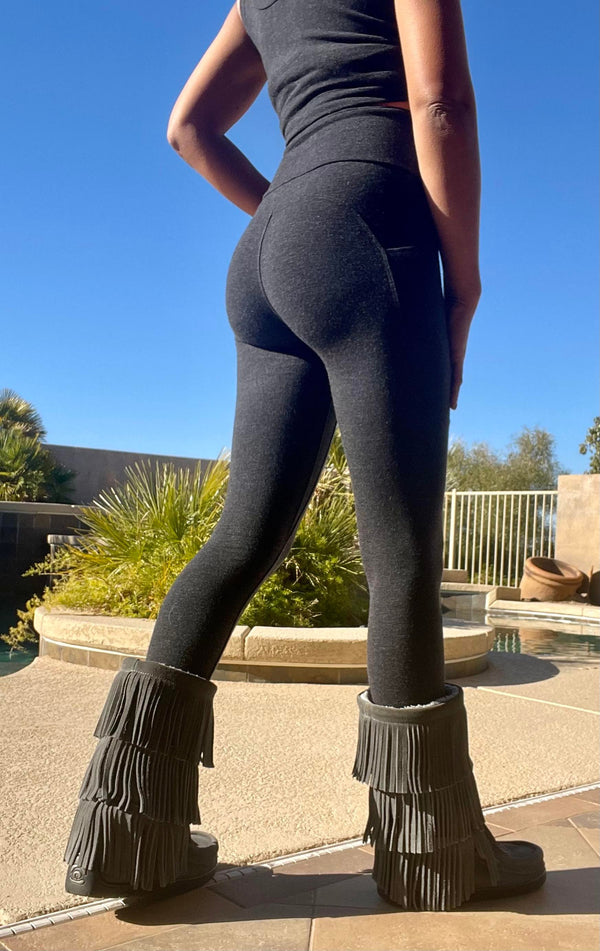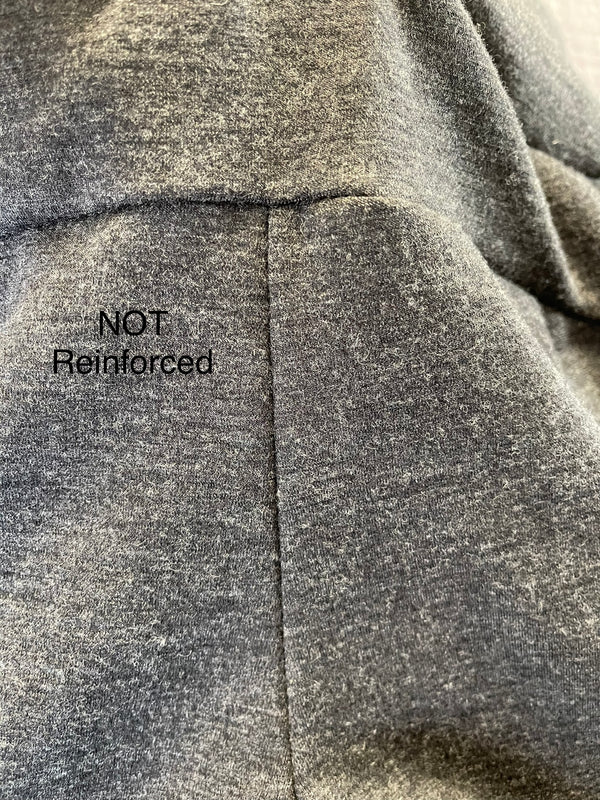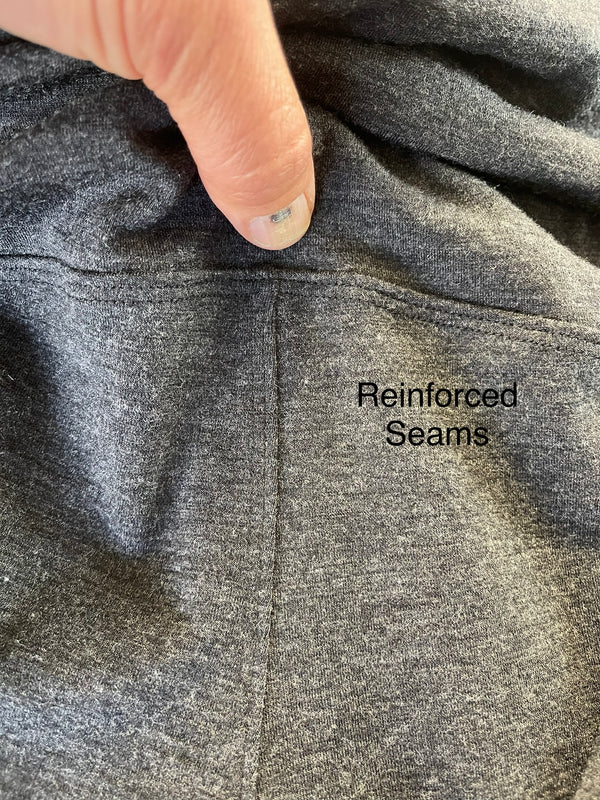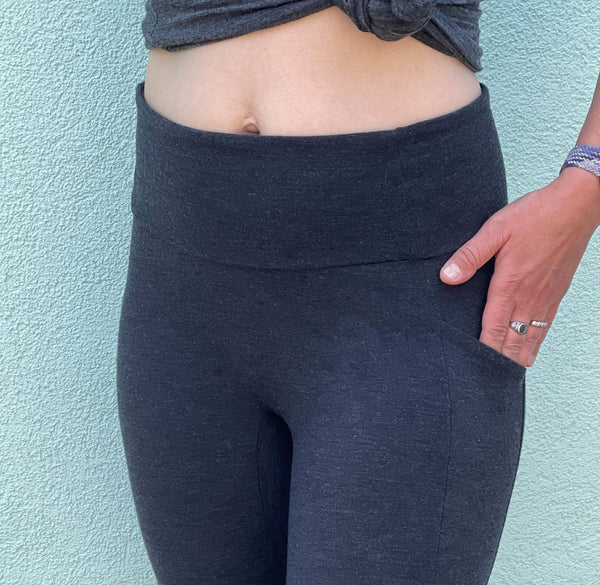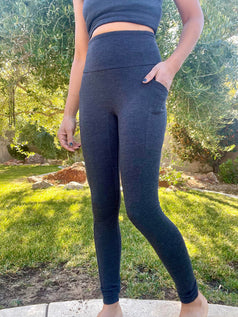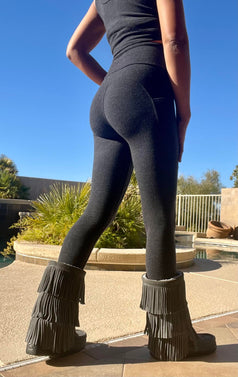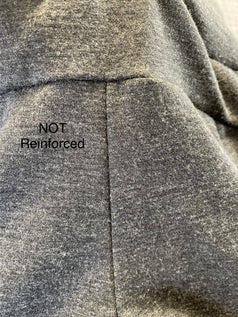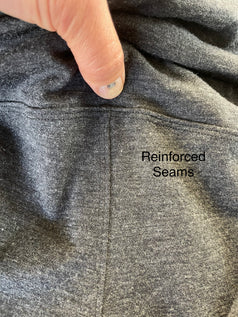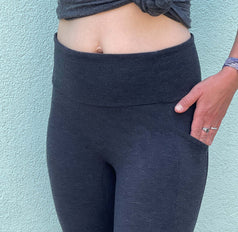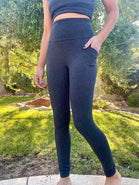 Merino Jersey: Adult Sporty Pocket Leggings (short/capri/full length option)
The HumBird Merino Interlock Collection: Made for EveryBody, EveryDay. A clothing...
How to Order
STEP 1: Measure yourself
Take the following measurements:
Waistband circumference (more info below; see step 5)
High Hip (at the hip bones)
Hip (at the widest part)
Thigh
Front Rise
Back Rise
Shorts Inseam (where you want the shorts to fall)
Tape measure should NOT indent into your body. Tape measure should be firm without causing markings.
STEP 2: Select Pant Size
Check size chart below and pick the overall pant size that best suit your Hip, High Hip, and Thigh measurements. If your measurements fall more than 1 size difference between (plus or minus) then we do not recommend this pattern. Please check out the other patterns available at HumBird.


STEP 3: Select Inseam
Inseam is measured from crotch to where you want your shorts to fall.
The fabric is stretchy, so where it falls may be different depending on body type. Note that additions and subtractions of inseam are not 1:1 from paper pattern to sewn up item. The larger the addition/subtraction, the more difference there will be.
STEP 4: Select Front and Back Rises
The waistband is approximately 3.5" in height and is INCLUDED in the rise measurement. If you would like the waistband to sit above your underwear line or high hip bones, please take that into consideration.
STEP 5: Select Custom Waistband Circumference
For your custom waistband, find the top of your front rise, place your measuring tape there, and make a full circumference of your waist straight around. Take that measurement and round to the nearest inch. This measurement is very important to have a waistband that fits correctly. The waistband is NOT cut at your measurement, your measurement is used to make the correct size for you.
Handmade to order
From start to finish your order is handmade with the utmost care.
Small Business Model
HumBird is committed to a sustainable business model that focuses on responsibility to the future.
Fabrics Locally Created
EU Fabrics, Earth first, Animal first, Responsibly made
Community Driven
Interacting with our customers is the highlight of our day! Join our Facebook group.
Customer Reviews
100
reviewers would recommend this product
Write a Review
05/02/2023
Shannon K.

United States
I recommend this product
Love
These are perfection! HB has some serious seamstress talent! Very Soft- stretchy but not too much. I went high on the waist. Comfort for wearing all day and easy to dress up for evening! Just get one! Don't question yourself you won't regret it!